Bonac Bees offers 100% Pure Beeswax Candles

Beeswax burns longer and cleaner than other candles.
Burning beeswax releases negative ions that improve air quality by eliminating pollutants and allergens.
Beeswax candles smell like HONEY and are dripless if kept from draft.

Please email Debbie@BonacBees.com BEFORE you order to check availability!
---
Custom Candles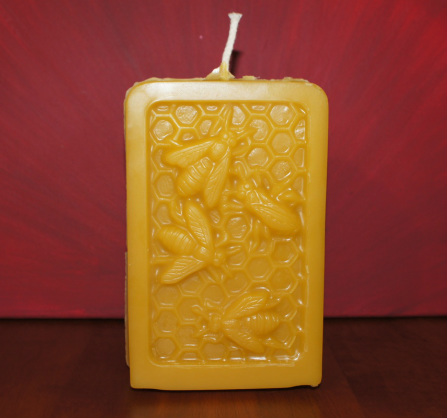 Hand poured 100% unprocessed beeswax.Click on image to enlarge.
6" X 4" x 3" Poured Honeycomb and Bees

$80.00

Burn Rate: 200 hours

This candle contains over 2 pounds of pure beeswax.

Smells like HONEY !


---
---
---
​6" X 4" Poured Honeycomb Pillar

$45.00
Burn Rate: 100 hours
These candles look like rolled beeswax but burn like a pillar... because they are a pillar! My new favorite! Love the look and the feel. And the scent? Still the same beautiful honey scent. This candle design earned SECOND PLACE at the Eastern Apiculture Society of North America's 2016 Honey Show!! A beautiful candle!
---
Pillars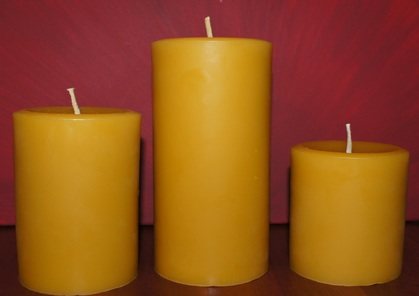 Hand poured 100% unprocessed beeswax. Click on image to enlarge.
6" X 3" Poured Pillar
$40.00
Burn Rate: 90 hours

4" X 3" Poured Pillar
$30.00
Burn Rate: 60 hours

3" X 3" Poured Pillar
$20.00
Burn Rate: 45 hours


---
---
---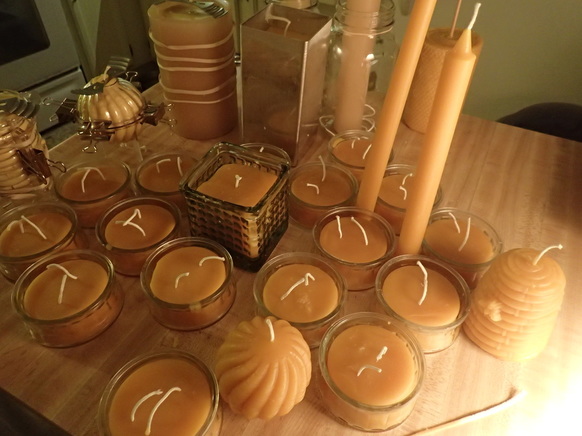 NEW ITEMS COMING SOON!!

Like what you see?

Please contact us for availability and pricing.




---
---
We will combine items for discounted shipping . Email
Debbie@BonacBees.com
after placing order for shipping adjustment.
---
BASICS OF BURNING CANDLES

1. Never leave a burning candle unattended & always place your candle on a candleholder.

2. Try to keep candles out of drafts, which may cause dripping & bright light, which may fade the color.

3. Keep the wick trimmed to between 1/4" and 1/2".

4. Once lit, allow a well of wax to form to the edge of a pillar candle. (1 hour per inch of candles diameter)

5. Light your beeswax candles and enjoy them every day!

UNDERSTANDING BEESWAX CANDLES AND HOW TO BURN THEM

A good beeswax candle is a pure pleasure. Its rich, peaceful light is warming and illuminates our special moments.
The beauty and light a pure beeswax candle provides is unique. Beeswax burns more beautifully than any other wax.
As it burns it exudes a natural honey fragrance.
Bonac Bees takes pride in hand- making pure beeswax candles with natural cotton wicks that burn without dripping, smoking or tunneling.
Our candles burn best with a little care and attention!

PURE BEESWAX VS.PARAFFIN WAX CANDLES

Since nothing is added to Bonac beeswax, it is important to follow these instructions.
Unlike paraffin, which is "oil-based" with additives that makes it easy to burn, pure natural Bonac beeswax has no additives and needs to be "tended" during its burning process. Compare your beeswax candlewick to a paraffin candlewick. The wicks are different.
Paraffin candles are made with small diameter wicks with a core or zinc or lead.
Bonac beeswax candles are made with large diameter natural cotton wicks.

NEVER LEAVE A BURNING CANDLE UNATTENDED!

Most candle lover has heard these words. Even so, it means more than what you might think, especially when it comes to enjoying pure Bonac Bees candles. Our candles need some attention.
If left to its own, the wick may become long and the candle can begin to "burn out".
You may find that the flame seems to be dwindling.
The bright light that your Bonac beeswax candle once had may not be as intense.
You need to tend to your Bonac Beeswax candles to keep them burning bright!
You also need to burn them for a few hours to prevent tunneling.

WE ONLY USE COTTON WICKS

At first lighting, apply flame where wick and wax meet so wax absorbs into wick.
To keep that beautiful beeswax candle burning brightly, "tend" it by maintaining its wick.
Cotton wicks need to be trimmed to between 1/4" and 1/2".

SMOKE OR LARGE FLAME?

If your candle begins to smoke or the flame becomes too large, extinguish, and trim your wick to 1/2" while the wick is still warm and flexible.

PILLAR CANDLES NEED A WELL

In order to keep your candle from developing a thick wall with a tunnel down the middle, you must keep it burning long enough.
It is very important that after lighting, your pillar candle remains burning until a hot "well of wax" forms to the edge.
For beeswax pillars, this could take 2 to 3 hours.
If the candle does not burn long enough, a thick wall will form with a tunnel down the middle.
In this tunnel, the wick receives little oxygen. Without ample oxygen, the flame cannot exist.
Your candle will not last as long or burn as bright if you do not let a well form each time you burn it.
The general rule of thumb is to burn 1 hour for each inch in diameter of the candle.

DRIPPING?

Try to keep your candle away from drafts, as this will help your candles be "dripless".
If your candle begins to drip, extinguish and re-light when cool.

BLOOM?

Bloom is the natural frosting that appears on beeswax over time.
Bloom is a good indicator that the candle is made of pure beeswax.
Many people enjoy this natural frosted look on beeswax candles.
If you don't like the look, remove by wiping your candle with an old nylon stocking or by hand.
(Bonus! Beeswax is good for the skin!)

LEFTOVER WAX?

Beeswax is precious, so please do not throw it away.
Use leftover beeswax for furniture polish(mix with linseed oil), as a natural lubricant or sealant, or to "feed into" new Bonac Bees candles.
---
Biodegradable
Organic
Natural
Awesome
Chemical-free
Bees
---
---