Bonac Bees makes a Variety of Products from the hive.

Please email Debbie@BonacBees.com BEFORE you order to check availability and reduced shipping on these items.!


---
Buzzing Surf Wax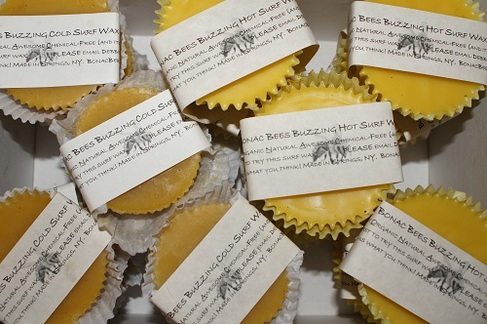 Biodegradable, Organic, Natural, Awesome, Chemical-free & Renewable!
Bonac Bees Surf Wax is an
ENVIRONMENTALLY FRIENDLY
way to wax up before dawn patrol or any time!

Millions of surfers use surf wax, mostly made from petrochemicals.
Much of this wax eventually falls off surfboards and can affect our beaches, reefs, and other delicate ecosystems.
About 95% of surf wax is made from paraffin wax pellets, which is a white, odorless solid. It is made from petroleum by-products that are created when crude oil is refined into gasoline.



​Bonac Bees Surf Wax is a natural product derived from nature and is renewable.

Bonac Bees Buzzing Hot and Buzzing Cold Surf Wax is made from all natural, environmentally friendly, RENEWABLE ingredients.

It is renewable as long as honeybees can continue to survive on this fine Blue Planet....

Another important reason to help protect the honeybees is so we can use beeswax for waxing surfboards!

Our surf wax comes TWO to a pack. You will get 2 packs of surf wax, each approximately 4 ounces each.
---
---
Bonac Bees Natural Lip Balm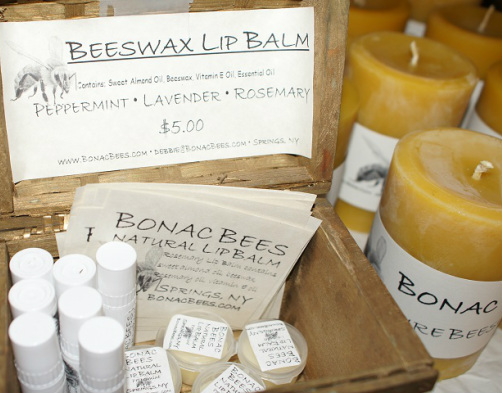 Bonac Bees Natural Lip Balm.
Not available at this time. Please email : Debbie@Bonacbees.com for availability.
We make a variety of lip balms from all natural products!
Try our Honey Almond, Lavender, Mint or Sunflower Beeswax Lip Balm.



​Lip Balm Contains:
Coconut Oil, Sunflower Oil, Pure Beeswax, Vitamin E Oil, Essential Oils (depending on variety of lip balm)
---
---
We will combine items for a discounted shipping . Email
Debbie@BonacBees.com
after placing order for shipping adjustment.
---
Biodegradable
Organic
Natural
Awesome
Chemical-free
and its renewable!
---